Need help? I'm glad you asked.
Basics
Use this typr.club thing to communicate with your friends using short messages with video. Just create a new room from the homepage, share the link and you'll all be imediatelly connected and sharing messages in realtime! :)
When you first use it, you'll need to give typr permission to use your webcam. The dialog in Chrome looks something like this, and all you have to do is click Allow.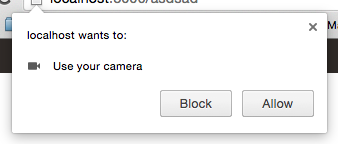 To send a message, simple write something in the text box and press enter. The camera will start recording when you press your first character and will stop when you press the enter key or after 8 seconds - the maximum length of your videos/messages.
Rooms
All rooms are secret but public.
To join a room, simply add whatever to the URL (https://typr.club/your-room-name-here) - obviously except help, that ain't gonna work and will lead you back here.
You can see how many people are currently connected to your room in the upper right corner.
Sharing
Sharing is easy: just place your mouse over a message, click the arrow and voilà the sharing options. You can share any typr message as a gif file, just copy paste the address that shows up in the text field. You can also share it on slack, facebook and "heart" things. Great stuff I know.

Sharing on Slack
The integration with Slack works by connecting the typr room with your Slack account. If you click the Add to Slack button on any message in your room, you'll start the authorization process that will allow you to share any typr message to Slack (in gif format) easily. You'll be able to select to which channel to post, for each individual message you want to share.
Subscriptions
Subscribing to rooms you and your friends use on a regular basis is always a great idea.
The latest messages from your subscribed rooms will show up in the homepage and you can reply directly from there - really handy.
Moreover if you're using Chrome, a cheeky Notification permission will be requested. Shall you allow it to happen (#allowit), typr will send you web push notifications when a new message comes through and you're currently not on typr. Amazing stuff.
--
Works great on Chrome and just ok on Firefox (can't get webm videos to loop atm)
Thats it! You have my contact down here so let me know should anything break/not make sense.